Have the beautifully curated kitchens on Pinterest left you feeling like having an organized kitchen would break the bank? Me too, until I realized I already owned most of the staples necessary to make my kitchen work smarter, not harder! Check out these six fantastic kitchen organizers that I can't live without. (P.S. They won't break the bank!!)
Not only will these turntables hold all your bottles and jars in place, they'll make it easier to find your favorite oils and vinegars without rearranging the entire pantry every time you cook. No more moving each bottle to find the one you need for your recipe. Everyone in your house will thank you. We recently added 2 of these bad boys to the pantry. We already had one in the refrigerator as well as one in the spice cabinet. It might not be an exaggeration when I say that the Lazy Susan has changed the functionality of our entire kitchen. A simple design that makes a huge difference.
These are the best refrigerator organizers! Clear and lightweight with handles so they can be pulled from the fridge to easily view all contents. Great for salad dressing, applesauce pouches, juice boxes, coffee creamer, condiments, you name it. They're also great in the pantry for dry goods.
This isn't the exact one I own because mine is ancient, but it's pretty close – check out the little rim on the front that keeps everything inside. We filled the dead-space in our pantry with one of these baskets; it's packed with mini mason jars that hold homemade seasoning blends. It's also perfect for sandwich bags, granola bars or chocolate bars. The sky's the limit.
Needless to say this puppy should be a staple in every kitchen, if it isn't already, because of its storage stretching abilities. No more stacking and unstacking piles of plates and bowls just to get to the ones at the bottom. I store small breakfast plates, a small measuring cup and clear bowls underneath and small serving dishes and ramekins on top.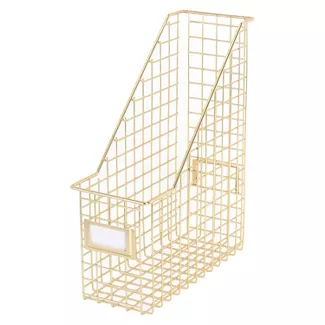 This stylish magazine holder is so slim that it fits into even the smallest pantry. I use them for potatoes, onions, and to house foil, wax paper and plastic wraps. Plus there's a handy pocket that holds a label card on the front and the back. Who doesn't want a little fancy in their pantry?!?
I've had these baskets for years and love them. They're small enough for my very small panty and perfect for corralling like items. I use one for grains, one for boxes of tea, one for hemp hearts and green powder for smoothies and another for nuts. The baskets add texture to the pantry while hiding items that would ordinarily fall all over the place without the aid of a basket.
As an alternative, stores like World Market, Home Goods and TJ Maxx also sell similar fantastic kitchen organizers that will have your kitchen Pin-worthy in no time, with out spending a small fortune!!